Free Maps of Germany
Download six maps of Germany for free on this page. The maps are provided under a Creative Commons (CC-BY 4.0) license. Use the "Download" button to get larger images without the Mapswire logo.
Mountain Ranges
The southern part of Germany borders the Alps, a major mountain range that extends across several European countries. Germany's highest peak, the Zugspitze, is located in the Bavarian Alps. In the southwestern part of Germany, you'll find the Black Forest, known for its dense forests and picturesque landscapes.
Rivers
One of Europe's most important rivers, the Rhine River, flows through western Germany, serving as a vital trade and transportation route. The Danube River, another major European river, flows through southern Germany, contributing to the country's internal and international connectivity. The Elbe River, running through northern Germany, has historically played a crucial role in trade and transportation.
Plateaus and Plains
The relatively flat region covering much of northern Germany is known as the North German Plain, which extends into neighboring countries and serves as an important agricultural area. The Central Uplands, or Mittelgebirge, consist of various low mountain ranges and plateaus, contributing to Germany's diverse topography.
Coastlines
Germany has coastlines along both the North Sea and the Baltic Sea. The North Sea coast is characterized by tidal flats, dikes, and coastal marshes. To the northeast, the coastline along the Baltic Sea features sandy beaches, cliffs, and islands.
Islands
Germany's North Sea coast is dotted with several islands, including Sylt, Föhr, and Heligoland. Along the Baltic Sea coast, popular tourist destinations include islands like Rügen and Usedom.
Lakes
Lake Constance (Bodensee), a large freshwater lake shared with Austria and Switzerland, is situated in the southwestern corner of Germany. Additionally, the Chiemsee in southeastern Germany is known as the "Bavarian Sea."
Physical Maps of Germany
Printable Maps of Germany
Where is Germany located?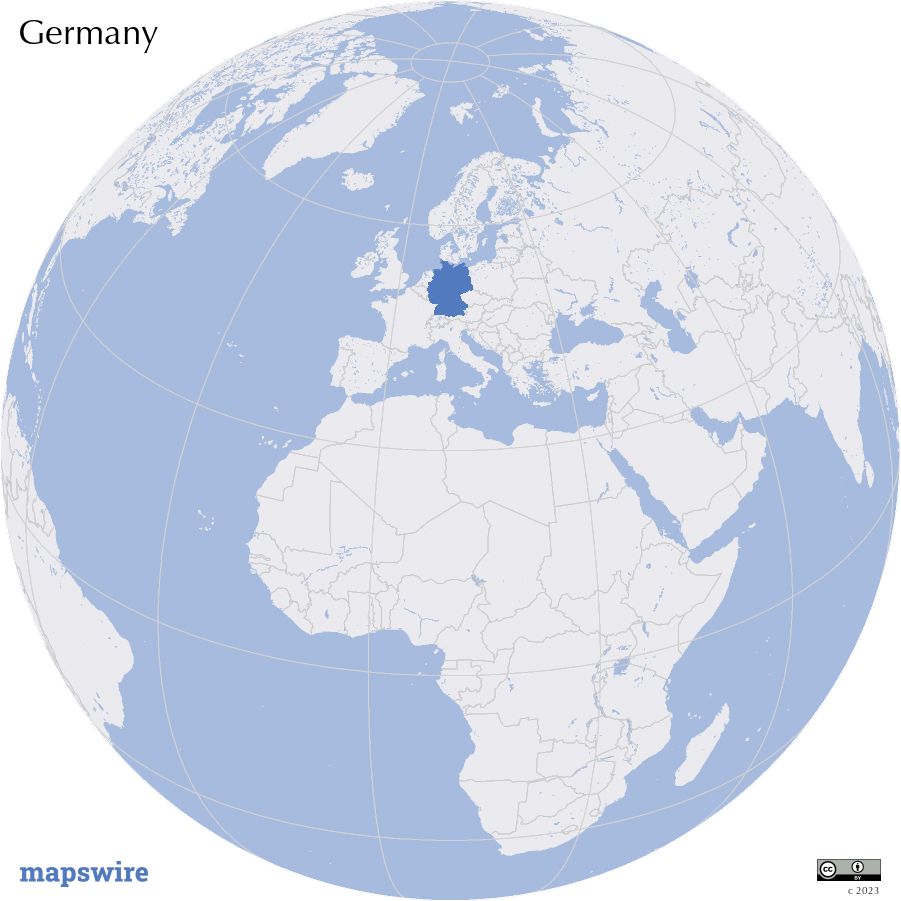 Location
Central Europe, bordering the Baltic Sea and the North Sea, between the Netherlands and Poland, south of Denmark
Download